After looking around Homedepot and Lowes a few times I wasn't satisfied with the price, size or color temperature of any of the lighting solutions I saw. Blam, Pow and Zap! DIY to the rescue.
I bought some surplus LED light modules on a string of 20 from MPJA. An eight foot length of angle aluminum and some screws from Homedepot. Got busy this morning, drove to Homedepot and with writing this article I took less than three hours to complete this project. Now I can see quite a bit more clearly on my work bench. I can remove a couple free standing desk lamps for more bench space.
Here is a photo shot from my new #wp8 Nokia Lumia 920 showing the LED modules and the angle aluminum. There are adhesive backs on the modules. I soldered on a power connector, found an old 800ma 12vdc wall wart and well… there ya go.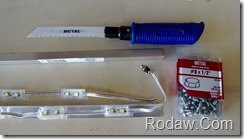 And the finished product on my work bench. Now I can get to work on the microMedic contest at Parallax. And my @HomeAmation data logger, and my RaspberryPi node.js Home automation, and my laser robot, and my CNC mill, and yada yada yada sis boom bah!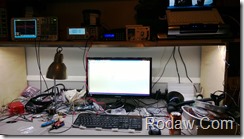 c ya…