At the Infuse -Open Mic MAY 12 Every SECOND Sundy event in Phoenix, Arizona I read the following. Thank you Lalli for hosting and snapping an image of me with my camera. Sure hope I can share this in Spokane, Washington at the Broken mic where I read my first poem in public.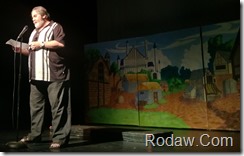 Bummed that I can't hem and haw to introduce my latent flaw so here I go with this tale lagin soon be waggin in a wagon pulled by the dragOnIng.A breath of fresh air into my soul by my writing, with my reading, granted by your listening.
Building bridges to get on over it, is a good thing when there's something to be getting over, something needs your attention, something in your process needs the attention of your reflection.
But I'm finding in this time I need to be getting over building bridges to just be getting along on the roads that lay past those reflections, those bridges to get on over.l don't need to tax myself to build another bridge I just need to be on the road where and when the road might be.
Netflix streaming "Hustle and Flow" I'm sitting paralyzed wondering where to go.
Next. Next vexing me until I Think it's about time I quit whining bout building bridges to get over it and start getting over building bridges for my wondering what wound I'm crying about!
I need to lay some concrete foundation for this bridge, I don't want to build forever never. A nice little walk on down the road. May as well enjoy the flow, I ain't dancing the Hustle no more. Apparently I ain't that hurting, gota escape this winding whining.
Idle too long gone tharn in the headlights of the inevitable reaping, don't need to be running with Scythe in hand 'neither.
Free styling for my next line it' don't take me fifty cents to usher in the realization that I'm not Marshaled in a haystack.I will find that pin to pick the lock into the future. Getting' over building bridges. Enthused by some direction, Infused by open mics.