As I left for the singles dance I learned about on MeetUp I tweeted: "33% overweight, no teeth, shabby wardrobe – Heading for a singles dance! http://bit.ly/N8rFqu I did get a haircut! ;-)" Never mind that I had chickened out of going to two previous similar events. I found a reasonably clean shirt in the closet, but I felt it was a little tight and definitely not for going out on a Saturday night (unless it was to a conservative code fest) to the Single's Dance!
Fueling my pony (actually a Seabring convertible) gave me my first opportunity to cop out and flee for home. I pulled into a gas station just as the attended was placing yellow out of order signs on all the pumps. I took a deep breath and kept on going.
Next stop? WalMart! They'll have a shirt that will fit around my Dunlop's disease and they're on the way. I can get some Ode de' cologne too! They didn't have Ralph Lauren Polo so I settled for Usher 'cause I like his music.
Not sure if maybe I should be wearing white? It's at the Toluca Lake Tennis club. I elect for my one pair of jeans that fit and a new black shirt that feels good on. Ya clothes gota feel right or just ain't happening, am I right?
Ok I'm here and layout out the dough. I get a 3 of clubs for a raffle later and discount tickets for the next single's dances. If I attend two more in a row I get the third free?
Check out these groovy sunglasses I won in the raffle.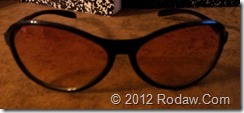 And a wide shot I took after the lessons during one of the first few songs. Got bored trying to figure out the flash on my Samsung Focus S while at the WhoopTdoo.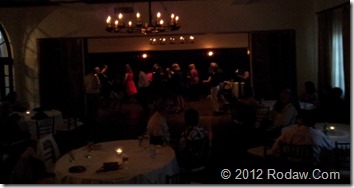 It was kinda fun, I'll probably try it again. Most likely at a larger venue with a live band. My name tag read: "Terry Fied" but it fell off before many could figure out how creative I am… I like to dance, and dance with a woman. I enjoy swing dancing. I'm not that big on the: "hey babby, ya wants ta dance?" part. I'd like to go to some huge club where they are blaring some techno and just get lost in the beat for a few hours. I don't mind dancing alone but this didn't seem the place. Besides I'm single and I didn't go there just to dance. I wanted to place myself in a situation where something spontaneous might happen. :-) Maybe meet someone who would go see a play with me at the Rogue Machine Theater. Maybe go watch the Grunion run, or head up to Griffith Park on a first Friday of any month for: "All Space Considered"
One thing I've found through the years is it seems like the best way to perhaps find a relationship is not to look for one. The odds just don't seem all that good that I'll meet someone without a little exposure out in public where other humans graze.
Well anyway… blah blah blah…. c ya…