I scored some used shelving 18" x 36" x 72" for $10 bucks from an onsite auction of a closed furniture store. Space is at a preimum in my house and garage. I wanted to put some wheels on the shelves so I can move them around the garage.
Wow they're on sale for $55 bucks at HomeDepot. (oops online + exorbitant shipping) These are significantly stronger shelves than the plastic and metal ones that are only a few dollars less expensive.
I bought a 4×8 sheet of 3/8 inch plywood. Homedepot was kind enough to rip it to my specifications. I bought a dolly on sale at Harbor Freight (HF) for twelve bucks that I salvaged both the casters and carriage bolts and nuts.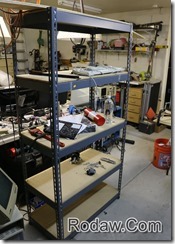 I want to put wheels on these shelves.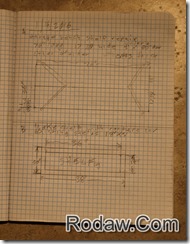 I start with a diagram of my idea. It was very helpful in describing the cuts I wanted from the HomeDepot saw cuts. I keep a project journal with graph style pages. Two pieces of 3/8" plywood. The bottom piece is 1" wider on all four sides. This will fit just inside the metal colums of the shelving unit.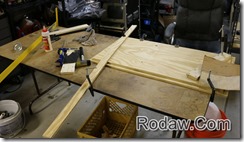 Clamped for curing over night at least ten hours. I used full tube of "Liquid Nails"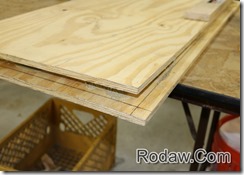 Bummer! Surprised that the liquid nails didn't hold. Well anyway I'm forging on bolting the casters to the two pieces of plywood.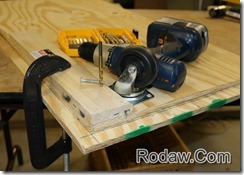 I clamp a piece of the salvaged HF dolly in place to use as a drill guide for the caster cariage bolts.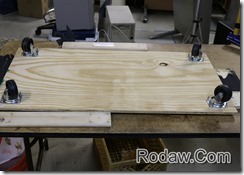 Casters attached surrounded by the dregs of the salvaged HF dolly.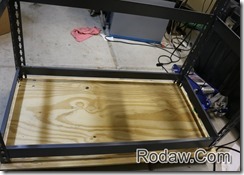 A detail of how the shelving fits snugly over the top piece resting on the bottom.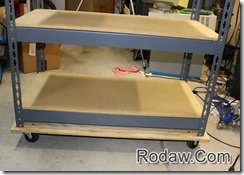 The custom shelving dolly raises the shelves a little less than 4 inches. Looking good. They seem pretty stable.
Time will tell.