Cool! This test of my second prototype worked. This first prototype didn't. Not bad for an hour of work and less than five bucks of parts.
Next step accelerometer and or gyroscope. I think I'll try it with Parallax propeller, netdruino and arduino.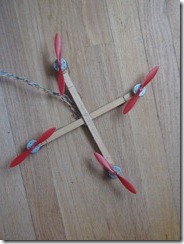 I mounted the motors on the top of stronger spars with a glue gun. Dressed the wires too.
(FYI It's a mountain Dew)
Although highly unstable I've proved to myself that these motors have enough lift to experiment with. If you look closely in the video you will note that two motors on one spar or the spare itself is tilted slightly. Hopefully this can be overcome once I add some sensing and logic to the motor control. This is just motors straight to power supply. Might try warping the spar with some steam. I'll probably wait until after I add the control electronics.
Great second prototype test proving the motors have enough left to experiment with.