This is the second blog post on my project to turn my house that is an utter Pigsty into a home. There are a few of my own comments documenting the first couple weeks progress on my Original first Pigsty post. Couldn't find my camera so used my cell phone…
I have kept to my commitment to do at least fifteen minutes upstairs and fifteen minutes downstairs. However the last couple weeks have been pretty much just that. Sometimes when I look at the mountains of disorganizations it feels overwhelming! On the other hand I have accomplished some other goals. I turned in my Comcast cable boxes and discontinued all television services. I still have Netflix but will let that lapse when my soon to be credit card on file expires. That has given me more freedom to kick my television watching addiction in favor of increasing my knowledge of some certain computer programming skills by way of silverlight ria services, asp.net MVC, WCF / OData and WPF. I submitted some of my ceramics for possible inclusion in an upcoming show. Planted still more grass in the minefield in my back yard, check out https://www.rodaw.com/jeffa/lawn-dog-hole-grass-yike/ posted a year ago.
Back to the Pigsty. I discovered a huge closet I had forgotten about.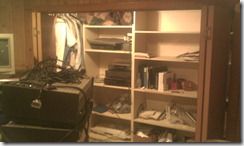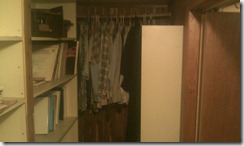 (Inside view)
In it I found some more outdated technology to get rid of. Check out these
3/4" top loading VCRs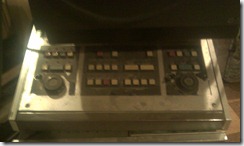 with and A/B edit controller too!
A couple small touch ups and this closet will be my first triumph. I consider it the deepest part of my house. Hence the first place to get right!I've already started to move things I will keep back in to this closet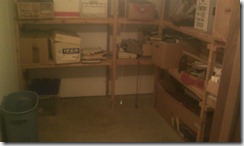 while the rest of the house suffers even more from my Pigsty to home project.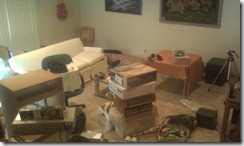 This is the upstairs recreational / music / rumpus room. It's now filled mostly with things I've decided to get rid of by either selling on craigslist, recycling hopefully for a couple dollars and a more ecological disposal or as a last resort hauling to the dump that in this town is an incinerator. Check out this old portable 3/4" ENG tape deck and an audio cart deck.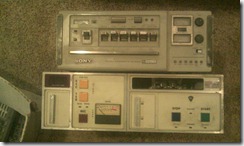 Meanwhile in my office I've removed completely outdated technical books (except a couple nostalgia titles) and refilled the shelves with books scattered around the upstairs that belong in my office which I have moved to the basement.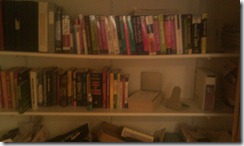 And one other thing this might be a little gross but I've actually been in the hospital for a week with blood poisoning from Hobo spiders. I sprayed all around the house and deployed eight spider traps that are beginning to perform their function.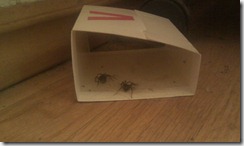 OK well I wanted to post this to keep myself honest and to my commitment of getting this house in order.
c ya….