Day one
I'm here! with at least 100 other folks.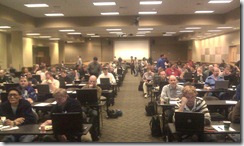 click image for larger view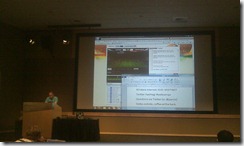 Slept here last night. Woke up with bunches of cars here already…. Wonder if I'll get away with it tomorrow?
Cool. Wireless internet. My VLAN to home comes up but connectivity is 'odd' Not getting my sql server.
Twitter Hashtag: #webcamps looks like it's been down since about 3am.
Facebook bit.ly/webcampsfb
Stuff that caught my eye:
I want to check out Dynamic data. Save HOURS. I'll investigate for some administrative pages first
?Intelitrace? Apparently only available in vs Ultimate.
Websitespark and bizspark
What is a db or sql project in the higher end VS versions? Support for migrations?
MVC sitemap on codeplex
kuler?? theme generator site http://kuler.adobe.com/#themes/rating?time=30
tailspin travel
stuff I'm learning:
In visual studio you can use intelisense by camel case likeWeCouldFindThis with WCFT. Also you can type in the first couple letters of a control, then tab through available matches.
Interesting art work in lobby
Hey Lee! Check this out
Bean Finneran born 1947. This work is "Chartreuse Cone" 1997 Ceramics with glaze from the Microsoft art Collection # 1997131
Day 2
These folks showed up on day two, formed groups and are coding on eight different projects. It's so cool to be around all these resources! I've learned a lot already, found some new resources and had a couple problems solved already. As I write this it is 10am. It's over about 6 pm tonight.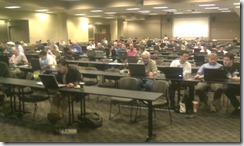 click image for larger view